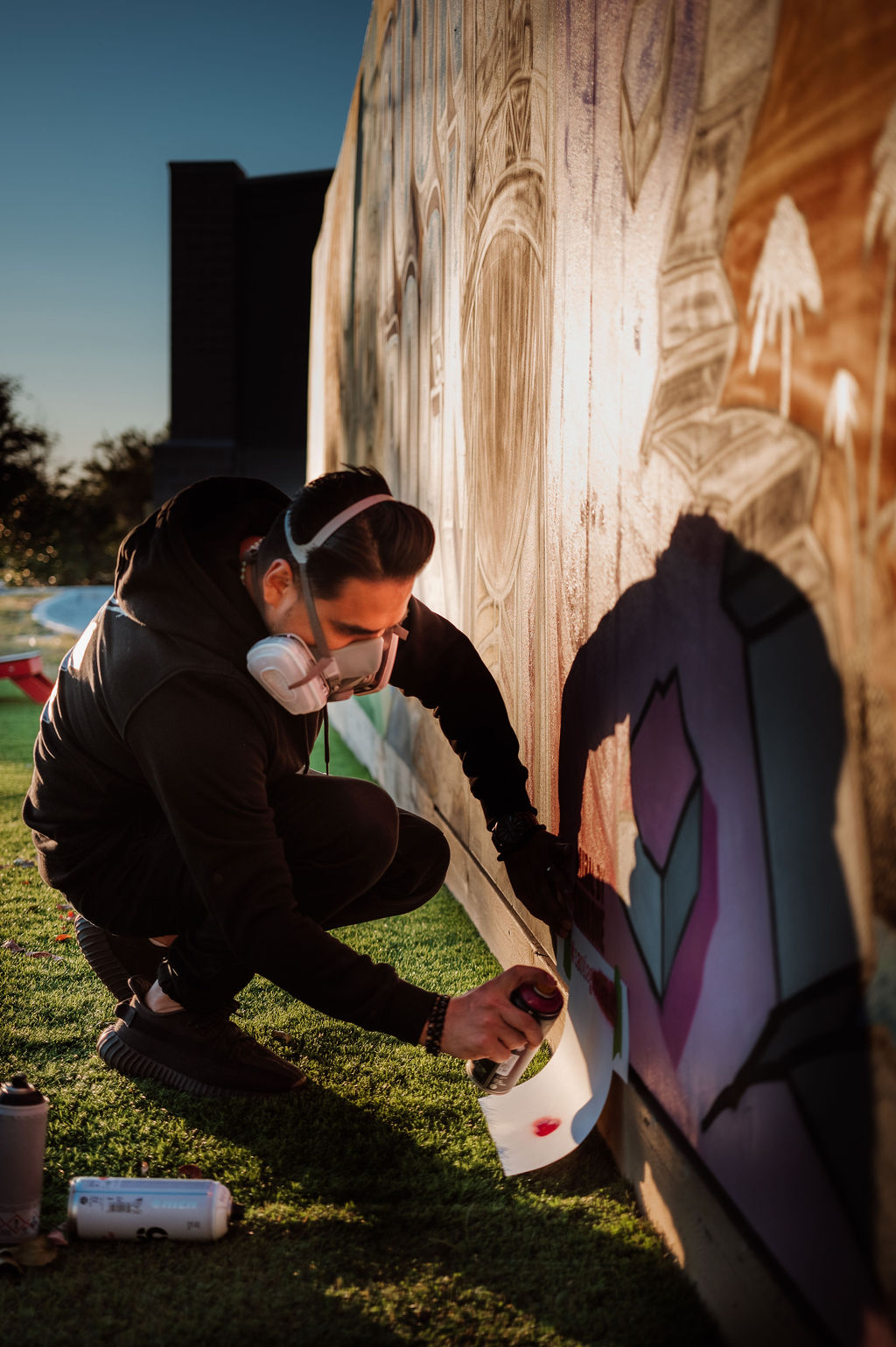 About Graffiti Mural Artist, Snuk One
Graffiti & Mural Artist / Illustrator / Designer
Snuk One, aka Felix J. is a multidisciplinary designer and graffiti artist. His work has been featured across Austin on both print and television news media. He's been crafting images shared around the world via social media since early 2008.
Snuk is a design lead at Forty4 Design – a boutique design agency, working with Digital Tech startups focusing on Visual & Interactive Design and Digital Product Design (UX/UI Design). From bombing paint on concrete walls to helping businesses change their identity, he's done a little bit of everything. But he's still always looking to do more. Get in touch today.
Connect with Snuk on Instagram, Facebook, Twitter, or Contact Snuk via email.
How art responds to the sounds of the streets is beautiful. The clatter and clang of a spray can rattle, just the same as speakers pumping out A Tribe Called Quest gives us gravity to what we believe when we think about expression, attitude, and life. 
There are kids riding skateboards, bands cranking their amplifiers to eleven, and artists using whatever canvas they find as their next great broadcast message. 
Snuk One is not conventional. This is art that's manifested in graffiti, music, design, and the streets and rhythm of Austin, Texas, a city built on banjo twangs and trap beats. 
No matter what the venue, what the outcome or what the medium, the end goal is universal: how can the viewer be challenged? 
How do you elicit emotions when heads are buried in screens? Eyes tuned into momentary love, rage, and sideshow entertainment by the second?
How do you make those heads fall in love with the pencil lines, the way a logo looks, the way a piece moves? That's the beauty of art, it's meant to shake up the senses in a cocktail glass, giving us flavors we never anticipated. 
This is not the corporate boot to the heart. Instead, these images, these sights are an extension of belief – can we challenge you to see design that speaks a little loud, maybe a little more Mexican, maybe a little more Texan? Or maybe it's a full-on alien. 
The art of Snuk One shows that the output is honest, that the programming is clean, that the heart is there between the splashes on canvas, paint on walls, or scribbles within a notebook. This isn't about branding, it's about identity. Identity means something now more than ever.